Jennifer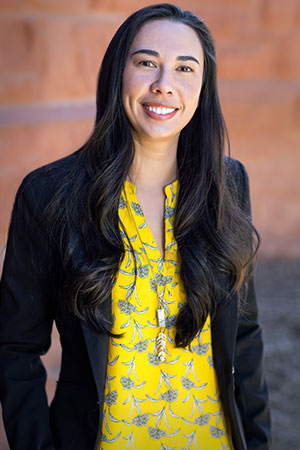 Jennifer attended the University of Colorado and continued her education to pursue her passion in dentistry at Concord Career College where she received formal and specialized training in dental hygiene.
Jennifer has accumulated 14 years in dentistry with 5 years focused on dental hygiene.
It is her goal to provide you with high-quality care with hopes that her impact goes beyond your gum line.
Jennifer had the opportunity to live in multiple states, mostly growing up in North Texas. She found her way to Colorado in 2008 to be closer to family.
She spends her time with her dog, Katie, and enjoys a variety of activities, including hiking, snowboarding, and traveling.
Angela
Angela grew up near Cincinnati, Ohio. She moved to Colorado when she was 19. Angela always knew she wanted to be a dental hygienist and has worked hard to achieve her goals.
Angela studied at the Community College of Denver and graduated in 2019, and pursued her bachelor's degree in dental hygiene right after.
What drew Angela to dental hygiene was the relationships that are built by taking care of patients across long periods of time and taking care of multiple generations from the same family! She is passionate about patient-centered care.
Her goal is to help her patients take control of their own health and to be as active in their treatment decision process. She does this by educating them as to how they can maintain a healthy smile for life and not only have a healthy mouth but also a healthy body.
She has great respect for her profession and really enjoys spending time studying, taking continuing education courses and applying new advances in dental hygiene. She will provide you with a thorough and comfortable experience every time.
Angela enjoys spending time with her family, hiking and listening to music. Being a new homeowner has helped enhance her handyman skills and she can't wait to start a thriving garden this summer!
Christy
Christy was raised in Orlando, FL, and first learned compassion and the art for customer service while being employed at the Walt Disney World company for 5 years. Following her time with Walt Disney, she attended Concorde Career College and graduated from their dental assisting program in 2011. She began her dental assisting career in the specialties of oral surgery, endodontics, Invisalign, and general dentistry.
In 2014, she made the move to Atlanta, GA, and expanded her career into celebrity cosmetic dentistry gaining one of the most fundamental and rewarding aspects of restorative dentistry ultimately finding a passion for general dentistry.
Christy married her husband in 2017 and they moved to Denver, CO in 2018. She spends her off time hiking, water rafting and snowboarding and finds joy in traveling around the world as well as spending time with her husband and two kitties.
Trisha
Trisha is an integral member of our dental team, bringing over 20 years of experience as a dental assistant to our practice. She is highly skilled and has honed her expertise in patient care and comfort, making her an invaluable asset to our practice.
Trisha's commitment to patient care is second to none. She has a unique ability to put patients at ease, which is vital in the dental industry. Her attention to detail and meticulousness ensure that each patient receives personalized care that is tailored to their specific needs.
Outside of work, Trisha enjoys hiking and spending time outdoors, and she often brings her loyal dog Jackson along for the adventure. Trisha is also an avid fan of University of Michigan football and loves following the Wolverines during the season.
Trisha's dedication extends beyond her professional and leisure pursuits. She has turned her crocheting hobby into a blossoming small business and she is an active member of her church community. Her faith is an essential part of her life and a guiding force in everything she does.
Trisha's exceptional experience, skills, and interests make her a one-of-a-kind dental assistant and valued member of our team. We are fortunate to have her with us, and our patients benefit from her unwavering commitment to her profession.
Mindy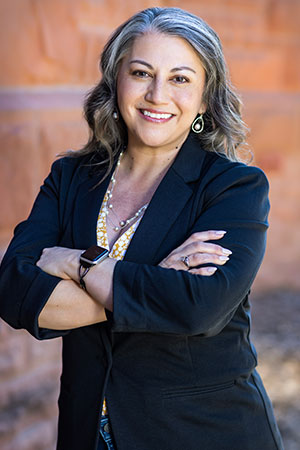 Mindy was born and raised about 100 miles south of Denver in Pueblo, CO. She began her career in dentistry in 2002 as a dental assistant. She assisted for about 5 years before making her way to the front office. Mindy always enjoyed assisting but found her true calling at the front desk. In 2011, she and her husband, Fred, decided to move their family north.
Mindy has been working with Dr. Flanigan for almost a decade and feels extremely blessed to be working with such an amazing doctor and team. When Dr. Flanigan purchased the practice from Dr. Gabler in 2013, Mindy became his office manager and she has enjoyed being a part of Flanigan Dentistry ever since.
In Mindy's free time she enjoys spending time with Fred and their 3 children, going to concerts and classic car shows, and seeing friends and family.