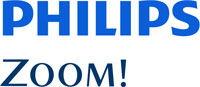 Dental whitening is very popular to improve the appearance of teeth. There are many options to do this including OTC strips (e.g. Crest White Strips), Professionally available strips (Sheer White Strips are sold in our office), Custom tray whitening, and In-Office whitening. Dr. Flanigan's preference for patients is in office "Zoom" whitening followed by custom take home trays.
In Office Whitening
Philips Zoom WhiteSpeed (In office procedure)
Our In-Office Zoom WhiteSpeed is the fastest, easiest, and most effective whitening solution offered by Flanigan Dentistry. If you want instant gratification, this is your best choice.
You just lean back and relax in one of our modern spa-like operatories while our dental professional completes the entire procedure. Go ahead and listen to music or take a nap.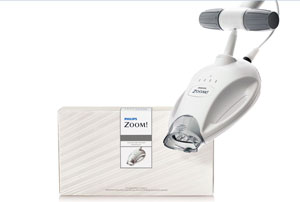 About the procedure
The procedure has been perfected through years of dental use. Your gums are carefully protected with a special covering, and then our unique hydrogen peroxide whitening gel is applied by our dental professional. Once on your teeth, hydrogen peroxide breaks down into stain-fighting radicals that break the molecular bonds making up stains, on and in your teeth. The intense light of the Phillips Zoom WhiteSpeed Whitening LED accelerator shining on our whitening gel helps these stain-fighting radicals whiten faster. The accelerator light increases whitening results by an amazing 40%.
At Flanigan Dentistry take home custom tray whitening is always included with our in office whitening procedure. More information about the different types of take home tray whitening are displayed below.
Take Home Whitening
DayWhite (Take home procedure)
Patients who have non-sensitive teeth can use a short-wear high potency gel. For you, there's Philips Zoom DayWhite At-Home Whitening.
This whitening gel is our fastest custom tray whitening experience; it reduces the time you wear your trays to just once a day for anywhere from 30-60 minutes. This will be used after our in office Whitening Zoom to maintain your teeth at their whitest. Your Zoom dental professional will discuss how often will be best for you.
NiteWhite (Take home procedure)
For those who like the convenience of whitening while they sleep, we offer Zoom NiteWhite At-Home whitening. This professional strength system offers results whitening strips can't match.
Just like any of our other whitening gel's, you will wear your custom-fit whitening trays but this time you will fill your tray and go to sleep waking up with a whiter smile.
This is our recommended whitening gel for our patients that have tetracycline type staining which is much more difficult to remove. Occasionally, NiteWhite will be used following our In Office Zoom if our dental professional feels its necessary.
We offer a wide selection of whitening gel's and our dental professional will help you decide which product and or length of time will be right for your specific teeth.
---
Success Stories
---


---


---


---


---